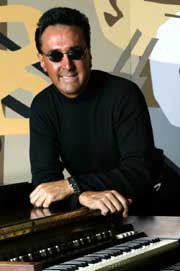 Vince Seneri

Raised in Hackettstown, NJ, Vince began his musical career on the accordion at the age of six. His father was an accordionist and played professionally with his own band. One day, he bought a Hammond M-3 organ and introduced this instrument to his son. Vince studied the accordion first, and later devoted himself to the Hammond organ and the piano.

During Vince's teens, it was the great Jimmy Smith who musically influenced Seneri more than any other jazz organist. He also admired other organists like Jimmy McGriff, Dr. Lonnie Smith, Richard Groove Holmes, Charles Earland, Larry Young, to mention a few. His piano influences were Oscar Peterson, Wynton Kelly, McCoy Tyner, Chick Corea, Herbie Hancock among others. Vince is a graduate of Rutgers University Newark, NJ, where he obtained a BA degree in business.

Vince was also greatly inspired by jazz guitarist George Benson. Benson's music and persona have been a big influence in Seneri's career. He met the legendary performer in 1986 during a Jimmy Smith performance at the Blue Note in NYC. Years later, Vince had the honor of being asked by Benson to perform with him at the Jack McDuff Historical Jazz Tribute.

Leading his own band, Vince Seneri has had the privilege of performing and recording with some of the finest musicians in the USA like Dave Valentin, Houston Person, Buddy Williams, Bob DeVos, Roger Byam, Onaje Allan Gumbs, and many more. Vince is endorsed by Hammond Suzuki USA. He performs, records and tours with the new Hammond B3 organ.