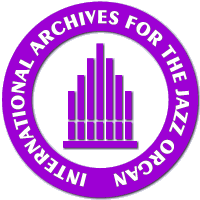 The Jazz Organ Scene
Italy
Francesco Gazzara

Young Roman organist Francesco (*1967) started - as many others - with the piano. But moreover he studied composition at the Roman Conservatory of Santa Cecilia, jazz piano and arrangement at the Scuola di Musica Popolare di Testaccio. His professional career began with composing for radio and tv stations. But he also collaborated with record labels as producer and pianist. It was not before 1993, Francesco formed his latest project, the Gazzara band, consisting of lots of keyboards, bass and percussions. In the center of all keyboards Francesco puts his beloved Hammond to which he has dedicated a brand new project, the Hammond Express which will include bass and drums. Francesco's music finds its roots in jazz and funk and could be labelled as acid jazz.

One of his newer projects, "Hammond Express", is described under www.scenariomusic.it/disco9.htm.
Discography
One
Irma Molto Jazz 481212-2
recorded 1995

Francesco Gazzara, Hammond organ, keyboards
Mirtao, drums
Max Sanna, bass

Grand Central Boogie
Irma Molto Jazz
recorded 1998

Francesco Gazzara, Hammond Organ, keyboards
Mirtao, drums
Max Sanna, bass

Rendez-Vous
Scenario SCN 009-1
recorded 2002

Francesco Gazzara, Hammond, Rhodes, Moog, piano, guitar
Massimo Sanna, bass, guitar
Giovanni Di Cosimo, trumpet, flugelhorn
Eduardo Piloto Barreto, flute, percussion
Mirtao, drums, percussion
Sir Blofeld, bass

Sound Samples
"Burnin'"
05:44 - 5,381kB
n/a
YouTube videos
Click on a thumbnail to see the video.
The selection is made by YouTube.