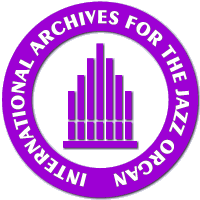 The Jazz Organ Scene
Italy
Roberto Bellan

Roberto Bellan was born in Brescia in 1963. At the age of 11 he discovered the passion for music and he began to study privately the classical piano. At the age of 20 his interest is for jazz and blues with fusion between the classical method with modern harmony. From 1974 to 1988, Roberto took private piano lessons with a classical music teacher. From 1988 to 1991, he attended a three year course of modern harmony and composition at the Cremona Jazz School. From 1992 to 1994, he improved himself at BPM music school (Modern Music Project) attending the jazz piano course. In 1992 and 1994, he attended the courses at Berklee Institute of Boston for the jazz technique perfectioning and the in-depth study of Modern Music.

During the 80's the organ seemed to be completely forgotten supplanted by the first digital electronic keyboards; then, his interest for the Hammond organ arose. Jack McDuff, Lonnie Smith, Brian Auger, Al Kooper, Keith Emerson, Jimmy MC Griff and Booker T. were the musicians who inevitably influenced Roberto's style of contemporary musician.

In 1998, Roberto founded the band "Roberto Bellan Organ Groove" that sails in the universe of the "groove" with an individual mixture of acid jazz and funk, lounge and blues, rock and progressive from the unmistakable sounds of the 60's and 70's. He took part in several festivals in Italy and Switzerland, and cooperated with a whole bunch of Italian and international artists.
| | |
| --- | --- |
| contact: | |
| homepage: | |
| | Click on the logo to see Roberto's tour dates. |
Discography
Hammond Groove
no label
recorded oct 1998/dec 1999/jan 2001/febr 2004 in Italy

Roberto Bellan, Hammond C3 organ, piano
Paolo Spagnolo, Hammond L122 organ
Bruno Marini, baritone sax
Cristina Mazza, alto sax
Mauro "Otto" Ottolino, trombone
Franco Delmonego, drums
Enrico Mantovani, guitar
Joe Damiani, drums
Andrea "CEK" Franceschetti, guitar
Maurizio Fogazzi, drums
Enrico Sauda, guitar, vocals
Libero Scalvini, drums
Pietromaria Tisi, guitar
Gianmario Longaretti, bass
Sergio Mazzei, drums

Sound Samples
| | |
| --- | --- |
| | n/a |
| | n/a |
YouTube videos
Click on a thumbnail to see the video.
The selection is made by YouTube.